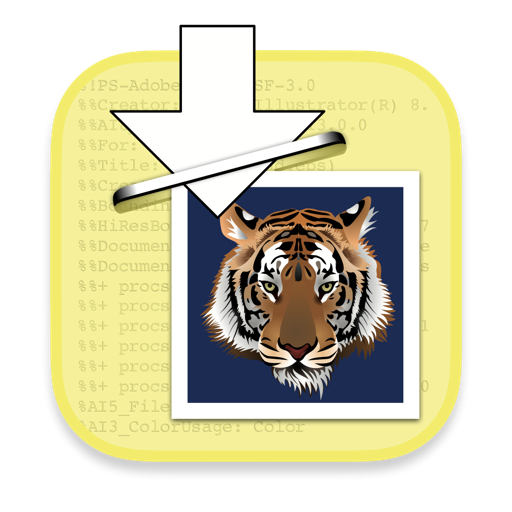 Stapled is an original utility letting you share your artistic creations in their best quality, at locations previously reserved to photographs
Give it a try ! It's free.
Open any document with the application : it creates a new document — litterally a picture — rendering a preview of the original document… but a somewhat special picture, that also embeds the original document, at its full quality.
Wherever you put this picture, you also put the original document : the original document has been "stapled" with the picture (hence the staple, drawn on the picture).
When you open back a picture created by Stapled (or a copy of it) into the application : it will magically re-create the original document !
The original document has been "unstapled" from the picture.

What's new ?
Stapled 2.4 adds a "scrambling" feature.
In previous versions, any stapled document was used "as is" in the generated picture. This never caused any problem until a recent change in the way some protective software (antivirus, a.o.) now handles such pictures.
This version allows the document to staple to be scrambled in the generated picture : you are now able to send them by mail, as before — no more "This message was blocked because its content presents a potential security issue".
This version is fully compatible with Monterey and uses the latest SF Symbols.
A small Trash icon will let you select back the Trash as a destination for remaining documents, in case you changed it and want to revert to the default location (the Finder, on Monterey, won't let you select the trash — which makes the previous official method obsolete).
This version also detects when the application is used as a Droplet but the destination of the processed documents was the trash — the application still remains opened after correctly processing the items (disabling the Droplet effect), but now explains the reason.
Last point, but not least, the webservice douwere.com/unstapler has been modified to process files locally : the unstaple process does NOT required any upload to our servers, insuring user privacy (of course, now, it can also unstaple the new scrambled documents).
Help is available here.
Comments and suggestions are welcome.
Copyright 2013-2022, Frédéric Blondiau.
All rights reserved.